Affordable and authentic tacos at Taco City.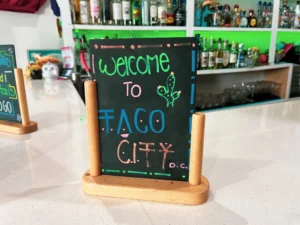 Taco City is found in D.C.'s Eastern Market neighborhood. It's a chill area with just enough other businesses and activities (e.g., a bar, a movie theater, and a flea market) to keep you from getting bored, but not so many that it's loud and overcrowded.
Taco City doesn't just have my favorite tacos in D.C., but also my favorite tacos from anywhere. Even my friends from California and Texas who, respectively, claim to have the best tacos in the world are not disappointed at this restaurant. One aspect that makes the eatery so exceptional is the impeccable customer service. The staff there are always friendly and available, which is something that shouldn't be taken for granted.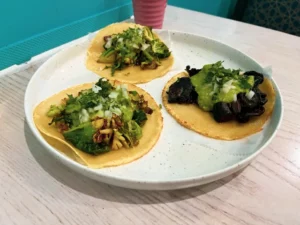 The customer service is undoubtedly a close second to the number one reason I frequent Taco City: the tacos. During my most recent visit, I decided to order three different types of tacos, including a chorizo (spicy pork sausage, radish, cilantro, onion, and tomatillo salsa), campechano (grilled steak, chorizo, caramelized onion, chicharron, cilantro, and salsa morita), and carnitas (roasted, pork, salsa verde, and pork skin). If you're a fan of Mexican food, you'll notice that the version of these tacos is like those at similar establishments, however, with a few unique differences. The carnitas, for example, has a pork rind in it. This is a simple, small addition that I had never seen before, and was honestly surprised at how well it fits with the overall flavor and texture.
I would be remiss if I neglected to mention the vegetarian options that they also offer. I'm not a vegetarian, but I have several friends and acquaintances who are. It can sometimes be challenging to find a menu with multiple choices for both meat-eaters and non-meat-eaters. For plant-based options, Taco City has mushroom, Brussels sprout, and cactus tacos. I also want to emphasize that there are indeed other entrées available besides tacos, such as tamales, empanadas, and several other traditional dishes.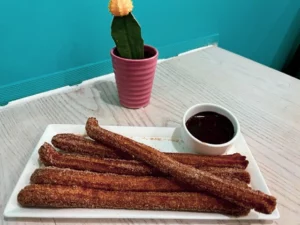 With all that food, I needed a drink. Taco City serves drinks you might expect like mojitos, sangria, and beer. They have more than a half dozen types of margaritas, so I went with one of those. It had the perfect ratio of tequila to the other ingredients (aka more tequila), which I liked. Instead of ordering two drinks, I opted to get dessert and decided to go with churros. Churros are one of my favorite desserts and they do them well at Taco City.
Between the chips and salsa (included with an entrée at no additional charge) and the tacos, I definitely had more than my fill. I was unable to finish much of my dessert, and I asked for a to-go container to take my churros home. I appreciated that the server took the extra step to save me from myself by bringing me a paper bag, which kept the snack fresher than a box. As usual, it was an all-around wonderful experience.
If you're in D.C. and you're a fan of Mexican food, do yourself a favor and make sure you visit Taco City.