Three Brothers Bakery has been serving the people of Houston delicious baked goods since 1949.
Three Brothers Bakery is a decades-old Houston business founded in 1949 by three brothers named Sigmund, Sal, and Max. There are a total of three locations as of today. Three Brothers Bakery is one of the oldest bakeries in the city with a wide variety of baked goods including cakes, pies, pastries, cookies, and bread. This establishment is great for sweet tooth cravings, work parties, and birthday celebrations. There are specialty desserts on some days with certain cakes and pies available in slices until they are sold out. Large custom cake and pie orders can take a few days, and designs can be added if requested. Some of their famous cakes include chocolate, checkered, and pound cakes, while their apple, cherry, and pecan are extremely popular pie options. Their Danish pastries include fillings such as cherry, blueberry, and apricot. For Jewish celebrations, this bakery sells their very praised challah bread along with cakes and cookies that are made without dairy.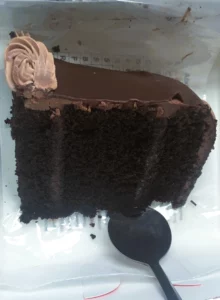 The outside of this bakery is unsuspecting, not look too eye-catching or flashy when driving by, but it does give you a glimpse of what they have to offer. The sign is prominent, and the bakery's opening date is printed below the name. Three Brothers Bakery is not much of a sit-in type of place, but the numerous sweets behind the glass make customers feel enchanted as soon as they walk in. There are enough flavors to satisfy any palate. The smell of baked goods further contributes to how wonderful it is to visit this bakery in person.
I ordered both a slice of cherry pie and a Hyde-A-San cookie on my last visit to the original Three Brothers Bakery location on South Braeswood Boulevard. My slice of pie was unbelievably delicious and fresh. It was a fantastic dessert in terms of both the crust and the cherry filling. The lattice crust had a sweet, buttery taste with some sugar that added to the crispy texture. The filling was full of cherries and a homemade cherry-flavored gel. The flavor of this pie was ideal: a little tart, but not too sour. The cookie was tasty, dense, and slightly crispy with a soft center. The chocolate made the cookie more exciting and moister, which was a nice contrast to the cookie's simpler flavor.
The service at Three Brothers Bakery is always very accommodating and welcoming. They often have cake samples for people to try, and they are excellent with phone orders. The cashiers are friendly and helpful when it comes to customer service and queries. They are also knowledgeable on ingredients for people with allergies and dietary restrictions. I've gotten several birthday cakes from Three Brothers Bakery, and the consistency has been spot on since I tried my first one in 1995, so you can trust me.