At OSO Paseo be transported to a tiki bar to sip on cocktails and munch on tacos.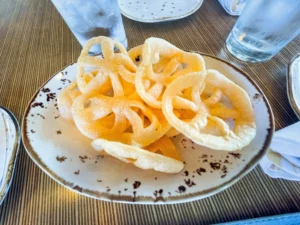 Tacos only on Tuesdays? How about every day of the week? 
That is precisely the philosophy of OSO Paseo in the Paseo Arts District in Oklahoma City, OK. Their menu is brimming with tasty Mexican-inspired street tacos. 
The building is easy to spot, sitting on a corner—bright white with a blue bear ("oso" in Spanish) peering over the rooftop. (There is even a small blue bear climbing the telephone pole right outside as well.)  
The inside of OSO Paseo is open and upbeat, with the bar situated in the center. The surrounding windows provide a burst of daylight during the day. The blues and whites maintain the overall color scheme.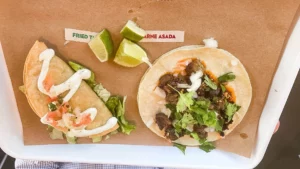 The server immediately brought over a bowl of duros de harina. These wagon wheel puffs of pasta are light and seasoned perfectly with a light chili lime flavor.  
Choosing a libation was tough! The Baja Tiki Tropical Cocktails all looked intriguing. I was tempted by the Baja Tiki—with tequila, rum, Dry Curaçao, fresh pineapple and lime juice, orgeat, and maraschino liqueur. But I settled for my go-to drink for Mexican food, a margarita. My husband selected one of the many beers on tap. 
We began our meal with guacamole and chips. The guacamole was fresh and seasoned just right. The chips were hearty but crisp—the perfect size to grab a dollop of guacamole.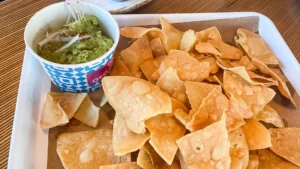 I appreciated the option of ordering a single taco (or several) or selecting taco meals with two tacos and two sides. I opted for a Baja fish taco and a fried taco. I love a good fish taco, and this one was excellent. The beer battered cod topped with jalapeño tartar and cilantro lime slaw was the proper heat for me without being overbearing. The fried taco was filled with ground beef, cheddar jack, and lettuce. It was then topped with a yummy cilantro lime sour cream and pico de gallo.  
My husband also had a fried taco but added the Carne Asada Taco. The skirt steak was accompanied by salsa macha, onions, and cilantro.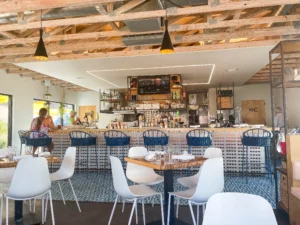 OSO Paseo has a variety of choices, including vegetarian/vegan options—tacos with cauliflower, green olives, and golden raisins or tacos with grilled sweet potatoes, black beans, and kale. Two of their most popular offerings are Brisket Burnt Ends Tacos (with a Dr. Pepper BBQ sauce) or Birria Tacos (with braised top sirloin). Burritos, nachos, and taco salad round out the menu. Yes, one could have tacos every day of the week! 
As we left with very full bellies, we paused outside to enjoy the great outside dining area. Two distinct areas provide many seating options. One area has golden yellow shade sails, while the other has a pergola-type covering. Two great places to enjoy an afternoon or evening of refreshment are here at OSO Paseo.  
But don't be like the big blue bear peering into the window. Instead, go inside and eat some great food at OSO Paseo.