Paderia Bakehouse: The perfect spot to fulfill that sweet tooth craving.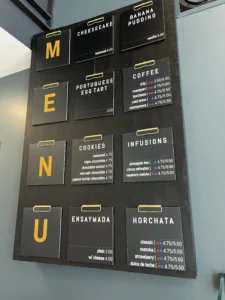 What beats the smell of freshly baked cookies you ask? Absolutely nothing. I could not think of a better reason to get myself out of bed on Friday morning than going to Paderia Bakehouse for some of the best cookies I have ever eaten.
Paderia Bakehouse is a modern bakery that serves several baked goods using some of the finest and freshest ingredients that are internationally sourced in order to ensure the best-tasting experience. Their menu displays items such as various flavored cookies, Portuguese egg tarts, cheesecakes, banana pudding, and ensaymadas (Filipino brioche). Paderia Bakehouse also has an extensive drink menu that carries all of your caffeine pick-me-ups like drip coffee, cold brew, and even Vietnamese iced coffee. If coffee isn't your favorite, they did not forget about the tea lovers: their tea drinks include raspberry matcha, iced pineapple tea, and a citrus refresher. And lastly, a unique addition to their drink menu is a selection of flavored horchatas such as matcha, strawberry, and dulce de leche.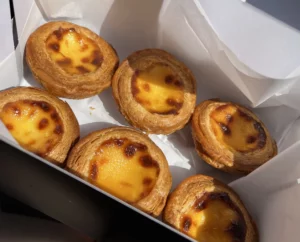 I went on a Friday morning right when they opened at 9 a.m. to ensure I would be able to snag some freshly made goods. I was greeted by their kind staff who were more than willing to assist me in what to order. They also informed me that they make their peanut-flavored desserts using different gloves and tools so no cross-contamination happens. After much deliberation, I decided to get their Portuguese egg tarts and four different cookies: strawberry cheesecake, blueberry coconut pecan, chocolate chip walnut (their most popular!), and triple chocolate.
After deciding that I definitely ordered more than enough for one person, I checked out. Paderia Bakehouse has a loyalty system where you can earn one point for every dollar spent and after 50 points, you can earn a free egg tart! I was quick to sign up for that because I had a good feeling this was not going to be my last time visiting.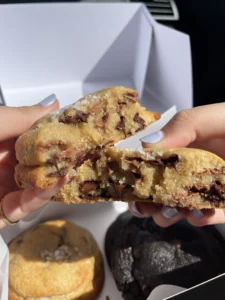 They have a couple of tables outside for you to enjoy your goods, but I decided to sit in my car and try them because I could not wait until I got home. While I did not order one for myself, I tried a bite of my boyfriend's order of the sea salt chocolate chip cookie and it was absolutely heavenly. The cookie is a very large size with a thick interior. The inside is gooey and has melty chocolate chips while the exterior was crispy and had flakes of sea salt sprinkled on top. The combination of all of these flavors and textures made for the most perfect bite of a cookie.
I could not resist and had to also dig into the egg tarts. The crust was buttery and flaky, just like a perfectly made croissant. The filling was a super smooth and creamy egg filling that flawlessly paired with the delicious crust. I highly recommend microwaving the tart for ten seconds or baking it for a few minutes. It'll taste like you just got it fresh out of the oven!
I enjoyed both of my desserts so much and I cannot wait to come back and try the other items on their menu. If you ever take a trip to Santa Monica, be sure to check out Paderia Bakehouse for all your sweet tooth cravings!