Great White serves classic American fare with a Californian twist.
While doing some research on where to go for dinner the night before my birthday, my friend and I landed on Great White, a lovely spot on Larchmont. The owners of Great White are two friends from Australia who were "influenced heavily by café culture and fresh produce that's delivered in an easy-going, fast and friendly way." The menu was appealing, the location was ideal, and the interior looked lively! The inside has a "coastal resort ambiance" which makes you feel like you are no longer in L.A. once you step foot inside the restaurant. The large hanging rattan lights custom-made from Bali are what really stand out and make the vacation theme come to life. Everything is chic and clean-looking. There are two locations: Larchmont and Venice, which was the first location. I found an easy metered parking spot across the street and walked right in when I got there because my friend arrived first. We had a cute two-person table near the back. The restaurant was pretty busy for a Wednesday night.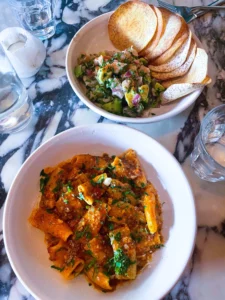 My friend and I have contrasting taste buds, so what we ordered was quite different. I got the rigatoni bolognese which consisted of handmade rigatoni, parmesan, and parsley. This dish was amazing! It was the perfect portion size, it had incredible flavoring, and it was not too heavy. I could really tell how fresh the ingredients were. My friend ordered the Gran Blanco Ceviche, which consisted of a white local fish, avocado, cucumber, red onion, cilantro, chives, tajin, and house taro chips. This dish was plated beautifully and definitely tasted as fresh as it looked. To satisfy our sweet tooth, we ordered the banana bread for dessert. It was served with whipped honeycomb butter and Maldon sea salt. This was the best banana bread I have ever had. The crispy outer edges and the moist inside made each bite enjoyable. The saltiness was the perfect contrast to the sweet banana flavoring and just paired really well with each bite. Both the rigatoni bolognese and banana bread are must orders when dining at Great White.
Our waiter was really friendly and the service was super fast, especially for how busy the restaurant was. As mentioned earlier, the ambiance of Great White on Larchmont cannot be beaten — from the lighting to the coloring of the inside to the hanging lights and fixtures. You truly feel like you have escaped the business of L.A. when dining here. I absolutely recommend trying Great White out for dinner, and brunch too! I will be going back soon to try more of their dinner menu, such as a few of their pizzas (specifically the wild prosciutto, the spicy sausage, and the truffle fungi ones), fish tacos, avocado dip, and crispy Brussels.