A French dining experience that makes you feel like you're in Paris at Petit Trois.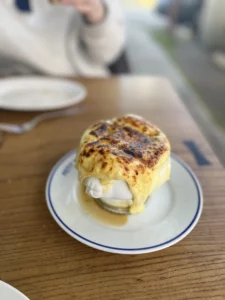 If you're looking to spend a meal in Paris, this is the spot for you! Petit Trois is a French restaurant located in Hollywood that serves some of the most delicious and authentic French food in L.A. They also have a secondary location in the Valley.
I heard about Petit Trois, a popular spot, from friends, so I decided to book a reservation via their website for a Saturday night dinner. I was seated in their outdoor dining section, which had a few table options. Petit Trois also has indoor seating, but that was much more limited. After being seated, I was met with their super friendly staff who quickly took our drink orders and made sure to seat us at a table that had ample shade. After browsing their menu, I decided to order a few items to give myself an opportunity to taste multiple dishes.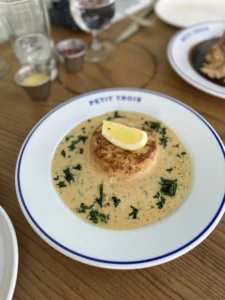 First, I started with a freshly made Petit Trois baguette served with Bordier butter. Bordier butter is kneaded for a specific amount of time at a slow speed to achieve a silky flavor and texture. And wow, this butter was amazing! The bread had a nice and crunchy exterior and a warm and fluffy interior. The butter had an amazing flavor and texture, and it spread so beautifully and evenly on the bread. I quickly finished that butter and had to order more! I also ordered the French onion soup as an appetizer. This was a highly recommended dish and one of the restaurant's well-known items, so I knew I had to try it. It was topped with a cheesy layer of Gruyère and filled with a flavorful veal broth and delicious croutons. I can definitely see why this item is one of their most popular!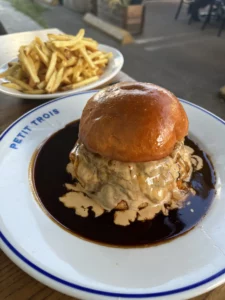 Next, for my main courses, I ordered the crab cake and the Big Mec. The crab cake was decently sized and served with a tarragon beurre blanc sauce, which is a French sauce that translates to "white butter." It is made up of a flavor base of wine, vinegar, and shallots. Overall, it had such a wonderful crab flavor and was not overly fried or battered. The Big Mec is Petit Trois' most well-known dish. It is a double cheeseburger with a bordelaise and special sauce and a side of frites (fries). You can request how you want your burger cooked (I requested medium rare), and it is served piping hot with some of the best fries I've ever had. The burger was so flavorful and juicy! However, it is super messy to eat, so I recommend eating it with a fork and knife. The fries were crispy and salted to perfection. They were served with some ketchup and ranch, which complemented the fries well.
Last, but not least, I ordered a dessert. Even after all of that food, I still wanted to end my meal with something sweet. I ordered the Napolean, which includes layers of puff pastry with Tahitian vanilla pastry cream in between the layers. This dessert was absolutely phenomenal. The flaky pastry pairs so well with the sweet, thick cream. It was the perfect ending to a perfect meal!