Zinc Cafe serves up quality food in a charming multi-use space.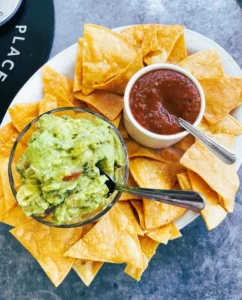 My friends and I are always looking for brunch spots to try and Zinc Cafe was a spot we all had on our list for a while. Parking was a bit of a disaster being in the heart of Downtown L.A. in the Arts District, but we finally found a structure down the street and around the corner.
You do not need a reservation at Zinc Cafe because it is a walk-in and order-at-the-counter-style restaurant. There is both indoor and outdoor seating, with an extremely unique indoor setup. There is a counter where you can order off the menu for dining in, and then there are separate counters on either side of that for ordering pre-made foods, drinks, and even a cute little market section with household items, wines, and other Zinc branded items. After ordering at the counter, we sat at a big table outside.
To begin, we ordered the guacamole, chips, and salsa, which came in a very generous portion that was best for sharing. The guacamole was super fresh, and the salsa had the perfect amount of spice. Three of my friends ordered the Zinc specialty, the avocado toast, which consisted of smashed avocado, a poached egg, onion, heirloom tomatoes, radish, chives, and dill on buttered sourdough bread. They said it was really delicious and unique because of the radish, chives, and dill. The bread was perfectly toasted, the avocado was the right amount, and the poached egg was an excellent addition.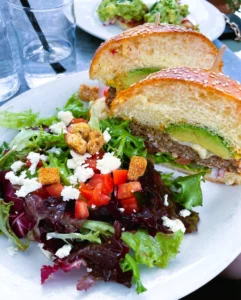 My other friend got a chocolate croissant and an omelet. She was very satisfied with this pair as it was the ideal amount of carbs and protein. I went less of the breakfast route and ordered the cheeseburger. This consisted of a Zinc vegetarian patty, avocado, cheddar, onion, butter lettuce, tomato, and zinc sauce. It came with a side salad which was super light and refreshing. I could only eat half of the burger because it was so filling, but it was really delicious. I even forgot it was a vegetarian patty because it was so tasty!
The staff was incredibly friendly and attentive, and the service was fast. The ambiance of Zinc Cafe is very relaxed, as some people came very casual and others were pretty dressed up. What I really appreciate about Zinc Cafe is the extensive options on the menu: breakfast, lunch, and random items too. I really enjoyed this location, but I am curious to dine at the West Hollywood location to see if the vibes are any different. I definitely want to go back to Zinc Cafe to try the breakfast burrito, the French toast, and the sprouted hummus and pita share plate. I saw some pizzas and sandwiches at other peoples' tables that also looked really scrumptious and good to share!