Super Pollo is indeed super!

From Lima, Peru to Arlington, Virginia – Peruvian

s

tyle

c

harcoal

c

hicken with a 40-

y

ear-

o

ld

f

amily

r

ecipe

.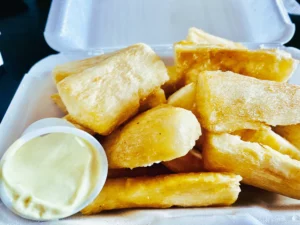 Peruvian chicken places are surprisingly popular in the Washington, D.C. area. In fact, the Washington, D.C. metro area has the third largest Peruvian population in the United States. Peruvian food is incredible and quite varied from seafoods to pasta and potato dishes. However, pollo a la brassa, or rotisserie chicken cooked over charcoal, is a simple, succulent dish that can be loved by many.    
Super Pollo is located in the Ballston neighborhood and is accessible by the Metro, but they have a parking lot as well, which is very convenient if you're driving to this bustling neighborhood. When you walk into this no-frills restaurant, you are immediately greeted with the delicious smell of rotisserie chicken. You can even see the chicken cooking on the back wall of the kitchen.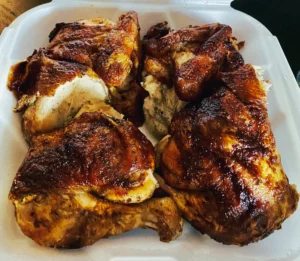 Join the line and order at the counter. While they offer full classic Peruvian entrée dishes, salads, sandwiches, burritos, and quesadillas, you should absolutely order their charcoal chicken. You can order it by the quarter or a whole chicken as well as add some amazing sides to go with it. If you have a white or dark meat preference, you can also select that. They are very accommodating!  
On this visit to Super Pollo, I ordered the Family Special #2, which came with a whole chicken and four sides for $30.99. I thought this was a great deal considering the amount of food that we got! It was plenty for my partner and I to eat dinner and have leftovers for lunch the next day.  
Super Pollo offers almost 20 different sides to choose from. I selected the yuca fries, black beans, green rice, and plantains to go with my chicken. They also serve traditional aji amarillo and aji verde sauces (yellow and green sauces), which are made with Peruvian yellow chili pepper. Be careful; the green sauce is spicy! Dipping the chicken and yuca fries in the yellow sauce is seriously good.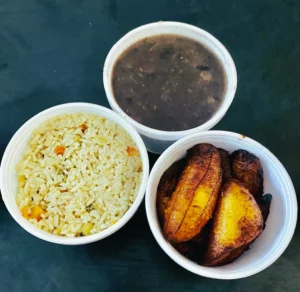 Our chicken was delectable! It was hot and fresh off the rotisserie, and there was no wait for our food due to the chickens cooking constantly. The sides were also awesome. If you only pick one side, go for the yuca fries. They pair perfectly with the chicken and are so crisp! 
If you order a drink, try the Inca Kola. It is a Peruvian soda that has a unique and fruity flavor. I think it tastes like bubblegum! If you don't like soda, try the chicha morada. It is a purple fruit juice that is made from purple corn. It has a sweet and refreshing flavor that you can only get at a Peruvian restaurant.  
We ordered our food to go, but Super Pollo has a lot of indoor and outdoor seating if you want to dine in. When you eat at Super Pollo, you will leave full and happy! It's always an easy meal to grab and go, even if you don't order ahead. You should absolutely try Super Pollo if you are looking for a simple way to try a different culture's cuisine or if you're a fan of rotisserie chicken!