Hora Feliz (Happy Hour) at

José Andrés

Oyamel Cocina Mexicana

in Washington D.C.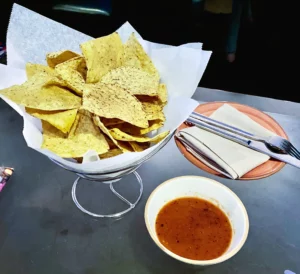 Happy Hour is a staple of the Washington DC corporate culture. With food and drink discounts and the opportunity to socialize with friends and colleagues in a relaxed setting, why wouldn't it be? However, sometimes it can be hard to find restaurants that serve up high quality offerings during happy hour, not just the cheapest things on the regular menu. At award-winning Spanish American chef José Andrés' Oyamel Cocina Mexicana this is not the case. They offer a happy hour, called hora feliz in Spanish, with delicious upscale offerings that are sure to impress you and your group.  
First off, if you want to indulge in happy hour be sure to visit Oyamel Monday through Friday between 4pm and 6pm at the bar area. It can fill up quickly, so try to arrive early especially if you have a larger group. Upon entering the vibrant atmosphere of Oyamel you will immediately notice the theme of butterflies throughout the beautiful décor. This is because each year monarch butterflies migrate south to Mexico and live in the oyamel tree, which is the inspiration for the restaurant's name. The dedication to showcasing not only Mexican cuisine but also Mexican culture makes Oyamel Cocina Mexicana extra special. 
Once you've found your seat in the bar area it's time for the best part of happy hour — drinks! Oyamel offers cocktails, wines, and beer for their hora feliz. The cocktails include a classic margarita, mezcal margarita, and a mojito dorado. My group got all three and each one was really great. I am a huge margarita fan and their classic margarita with Altos blanco tequila, Combier L' Original, and lime was exactly what I was looking for in a drink!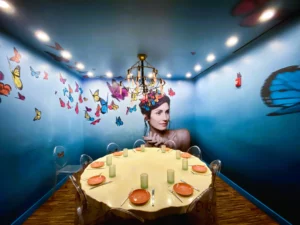 Oyamel Cocina Mexicana offers two food categories during hora feliz, antojitos (appetizers) and authentic Mexican tacos. We ordered everything on the happy hour menu, we had to try it all! The antojitos were amazing. We had ceviche verde, albondigas, tamal verde, and quesadilla de chicharrones. Our favorite was the ceviche. Ceviche is raw fish, in this case striped bass, marinated in lime juice with avocado and tomatillo. This dish gives you a citrus explosion in every bite paired with the lightness of a white raw fish. If you like seafood you should give this a try. Another hit in this category was the tamal verde. A tamal is traditional street food from Mexico made of masa, a dough made from corn, and then steamed while wrapped in a corn husk or banana leaf. Oyamel's version included a filling of shredded chicken, green tomatillo sauce, with chiles and garlic. This was a phenomenal tamal. The tomatillo sauce was generously slathered all over the top of the tamal and enhanced the flavors of the juicy shredded chicken.  
While the antojitos were delicious, the tacos were the star of the show! We got multiples of each type: de carnitas which is made from pork, pollo a la parrilla which was marinated grilled chicken, and hongos en molito which was mushrooms and poblano peppers. Do yourself a favor and order at least one of each of these tacos, they all show off the various flavors of Mexican cuisine in their own ways.  
Oyamel Cocina Mexicana is one of the best happy hour spots in Washington DC. Grab a friend and make your way to their hora feliz as soon as you can for some top-notch margaritas and tacos!