Authentic Mexican dishes right outside of Washington D.C. at Taqueria Los Primos.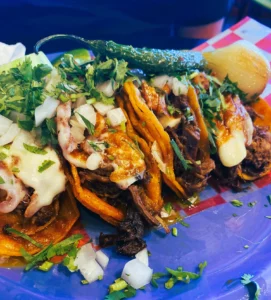 It can be a bit difficult to find truly authentic Mexican food in Washington DC. To find this hidden gem I turned to none other than TikTok. That's right, ​​TikTok told me to visit the colorful counter service Mexican restaurant, Taqueria Los Primos. As I was scrolling through my normal feed of must-read-books, local hikes, and hidden gems in Washington DC this mouthwatering taco joint popped up on my screen. As soon as I saw a local food TikToker share their experience visiting Taqueria Los Primos and eating their birria tacos I knew I needed to visit it as soon as I could! It's a bit outside of the city, but I always love a reason to check out a new neighborhood, especially if it's for an awesome restaurant.  
This restaurant, unassuming from the outside, stands out on the inside with its bright interior decked out with Mexican art in every nook and cranny! They proudly display Dia de os Muertos themed ceramic figurines, traditional colorful cut paper flags called papel picado, fresh flower bouquets, and​​ unique star shaped pinatas made of neon paper scraps, papier-mâché, and glittery streamers. As soon as you enter the restaurant you get excited for your meal! It's not only a feast for your body but a feast for your eyes as you take in the fun décor.  
First you order at the counter. Their menu is quite large featuring their tacos, but also with many offerings from tortas to sopes and enchiladas. The TikTok I saw about Taqueria Los Primos featured the tacos de birria, so I knew I had to order those. Birria is a Mexican dish originating from the state of Jalisco which has grown in popularity in America in recent years. It's a dish that is a meat stew usually made from goat but sometimes beef or lamb. It's served in a broth after being marinated in adobo. It's really​​ unique and super scrumptious. You should order birria next time you see it on the menu, but especially if you visit Taqueria Los Primos!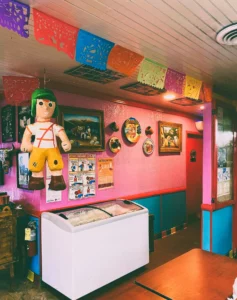 We also got an order of four tacos for $12, which is a great deal for the Washington DC area. We mixed and matched and got two tacos al pastor and two carne asada tacos. However, there were 14 different taco options to choose from, not even including the birria tacos! Taqueria Los Primos even has very authentic meats such as tripa, which is beef stomach. I wasn't that adventurous, but if you are searching for a place that serves these harder to find options, they have it here! 
Don't forget to get a fun drink to top off your meal! I got a Jarritos which is a fruit flavored Mexican soda, but they also serve homemade drinks and juices like horchata, tamarindo, and lemonade. 
After placing your order, you take a seat and wait for your meal to be ready! While waiting ​check out all of the cool décor around the restaurant. There is so much to look at. They have so many interesting items on display. 
Once our food arrived, we dug in! The tacos were all very large and four tacos per person was quite filling. The birria tacos were a showstopper and our favorite of the meal. The al pastor and carne asada tacos were also amazing. The were served very traditionally with onion and cilantro with a side of cucumber, radish and lime wedges. ​Both plates also came with a huge onion bulb, that was a different addition that I hadn't seen before. We were so full at the end of our meal, but we finished every last bite. The tacos were so flavorful and fresh. I'd easily order all of these tacos again. 
Taqueria Los Primos is an awesome off the beaten path restaurant for the best authentic Mexican cuisine. It's worth the drive for the birria tacos! Definitely add this taco spot to your "to-eat" list.