The Chef and I offers a gourmet dining experience like never before, only in Nashville.
The Chef and I relocated to Midtown — my neighborhood — from the Gulch about a month ago, and I knew it was time to finally give them a try. I opted not to make a reservation online once I saw that they had tons of availability yet required a booking deposit of $20 per person. Luckily, when my boyfriend and I showed up for an early Thursday dinner, we were easily able to snag seats in a prime location: the chef's counter. While seating options include traditional low-top tables as well as bar seating, the chef's counter is part of the restaurant's appeal. As our waiter explained, small plates and desserts are prepared at the rectangular chef's counter while diners look on, and dinner entrées are cooked in the downstairs kitchen. Patrons can observe the food cooking in both kitchens due to a massive television screen hanging above the front of the chef's counter that shows real-time footage inside the lower-level kitchen.
Although The Chef and I is deadly serious about its food and curating a personal, unique culinary experience, the atmosphere is entirely unpretentious. The decor can only be described as eclectic: the chef's counter is a stunning marble, and brightly colored classic rock-themed art lines the walls. The seating in the waiting area, tables throughout the restaurant, and walls are a mix of black and metallic silver. Fittingly, a fantastic playlist blasted hits by Queen, Foo Fighters, and Pearl Jam all evening, and each cocktail on the menu is rock-themed as well. I opted for Kickstart My Heart, which is essentially a French 75 with lavender bitters, and my boyfriend got the smokey mezcal-based Limelight. Both drinks were quite good, and mine came in a funky gray long-stemmed coupe. While they also offer beer and wine, the wine list is much more modest than what I expected, with about 20 bottle options in total.
Onto the important things: food. The cuisine at The Chef and I is distinctly American and, like many upscale restaurants in Nashville, has a southern twist. The menu is small and focused, mostly comprised of shareable plates with a handful of entrée offerings. Another aspect that sets this place apart is the availability of both tasting menus and a la carte dishes. Most restaurants only offer one or the other, but here, diners can go for the five- or seven-course chef's tasting even if others in their party would rather order a la carte, or two people can share a tasting and an a la carte entrée.
We decided to order a la carte; choosing a small plate to share was extremely difficult since every option had such interesting and thoughtful combinations of ingredients. We ultimately settled on the most popular small plate, the caramelized cauliflower with local goat cheese, which is served atop focaccia crostini and includes pistachio pesto, candied nuts, and honey. It's the fan favorite for a reason; I would never think to combine roasted cauliflower with goat cheese and honey, yet the combination of earthiness, tang, and sweetness worked perfectly.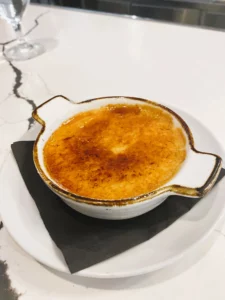 For the main dishes, I ordered the beef teres major steak, and my boyfriend got the fish of the day, which was trout. The fish was prepared beautifully and served over sliced potatoes with cabbage and kale slaw on top. My steak was served over a jalapeño polenta cake with a smoky chili sauce and fire-roasted green beans, which were the market vegetable. After bringing the entrées, our waiter commented that my steak looked overcooked — I had asked for it medium-rare, but it was medium-well — and assured me that the kitchen would remake the steak. When it arrived just a little while later, it was cooked to perfection.
Even though our waiter and the kitchen had already gone above and beyond, especially considering I hadn't even complained, they still insisted on bringing us dessert on the house. We settled on the crème brûlée, and we had the pleasure of watching the blowtorching at the chef's counter. It was one of the best I've had in Nashville.
Overall, The Chef and I is ideal for those looking to have a high-quality, gourmet dining experience without pretension. The choice between tasting menus or a la carte dishes offers something for everyone, and the service is both personal and professional. I look forward to trying brunch and returning for dinner.