Immerse yourself in a farm to table Mid-Atlantic culinary experience only at The Dabney.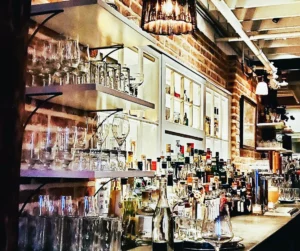 The Dabney offers an incredible Mid-Atlantic dining experience that is more than worthy of its one Michelin Star. Located in Washington, D.C.'s Blagden Alley, The Dabney is a warm and welcoming restaurant that puts its food first and foremost. As you enter the restaurant, you are greeted by an intimate seating room with an open kitchen powered by a wood-burning hearth that is visible to all diners. Chef Jeremiah and his staff are true culinary innovators with the goal of showcasing the quality and diversity of local ingredients and the farmers, purveyors, and watermen who raise, grow, and produce them. Their choice to cook over the open wood-burning hearth is a nod to the historic food culture of the Mid-Atlantic area, but still growing it into something new. 
Dining at The Dabney is a true culinary experience. The waitstaff is extremely welcoming and knowledgeable about not only each dish, but each ingredient in each dish. Everything is expertly explained before you dig into your beautifully plated dish.  
At this time, The Dabney is offering a four-course Prix Fixe menu for $110 per person. To build the perfect meal for the evening, each person can order from the snacks, a first course, a main course, and a dessert.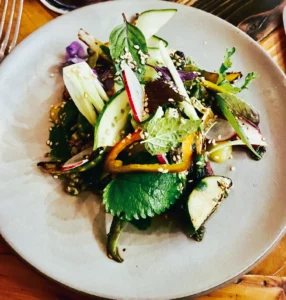 Drinks are not included in the set menu, but we had to try some of their cocktails. We ordered the Man on Wire, which is Four Roses bourbon, High Wire Southern Amaro, Charleston black tea, lemon, and a Virginia red wine float. This cocktail was really unique; the pairing of bourbon and red wine was simply delicious. We also got the Early Glow made of Yzaguirre Rose Vermouth, Campari, Garner's strawberries, and sparkling water. It was a perfectly balanced summer cocktail through and through. Our cocktails were so wonderful that we couldn't wait to try the food! 
The first course is the snacks, and luckily, you get all of them on the menu, so you don't have to choose. When we dined, they were offering tuna, Divine Pine oyster, and zucchini fritter. All were incredibly delicious, especially the local oysters!  
For our first courses, we chose the hearth roasted vegetable salad and the summer squash tart. These dishes were filled with fresh flavor in every single bite. Their hearth-roasted vegetable dish is the best way I've ever eaten vegetables (edible flowers included)! The Dabney truly pairs incredible ingredients together to create experiences you've never tasted before. We also opted to order their skillet cornbread for an additional fee. It was worth every extra penny!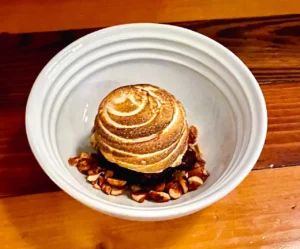 The main courses we got were the grilled cobia and the Rohan duck. The grilled cobia included charred onion, farro verde, buttermilk, and green sauce. The Rohan duck came with a rhubarb glaze, grilled fennel, and purplette onion. Both dishes were exceptional. I've never had cobia, which is a fish local to the region and has a distinct flavor with a flaked white meat. I loved coming to The Dabney because each dish included ingredients that I'd never encountered before.  
Finally, we got the dessert, which was every bit as good as the other courses. We had the Baked Virginia, their regional take on Baked Alaska. This dessert is so divinely rich and sweet; it is a must-order! Our second dessert choice was the blueberry Bundt cake, and it was a wonderful summer dessert filled with light flavors and blueberry sorbet.  
If you are in Washington, D.C., looking for a meal to thoroughly treat yourself, and want to enjoy an innovative culinary experience, you must visit The Dabney. This restaurant is incredible, and you will leave immensely satisfied. Your taste buds will go on the adventure of their lives! The Dabney is a true crown jewel of the Washington, D.C. dining scene.