Transport yourself to a beach boardwalk at Boardwalk Bar & Arcade in the heart of Washington D.C.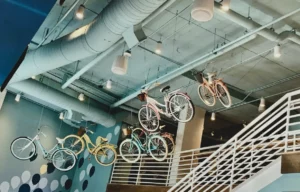 Imagine being transported from the hustle and bustle of Washington, D.C. to a beach boardwalk on the east coast for a night of games, fried dessert, and tropical drinks. This is exactly what Boardwalk Bar & Arcade aims to do, no matter the time of year! Located at Washington, D.C.'s Wharf, the setting for Boardwalk Bar & Arcade couldn't be better since it's along the Southwest Waterfront with views of the Washington Channel.  
Boardwalk Bar & Arcade is a huge location, complete with a covered outdoor patio perfect for people watching on the Wharf, a large lower level with long bench tables that would easily fit 20 people, and an upstairs area with a second bar. Alongside its ample seating areas, Boardwalk offers several areas to play arcade games with all your childhood favorites, such as ski ball, racing games, and a classic claw machine. It's easy to play them too; you just add money to an arcade card — no quarters needed!  
Ordering at Boardwalk Bar & Arcade was really easy. They are still using QR codes to order, but they also have servers coming around to take your order in person and answer questions. It's truly the best of both worlds! We started with drinks, of course. I ordered the Takoda Mule, which was vodka, fresh ginger, lime, and grapefruit, and it was delicious! It also came with a fun red and white striped straw that was perfect for the boardwalk theme. My friends got seasonal beers, the Cotton Candy Collins, and the Cortez margarita. All of them were a hit!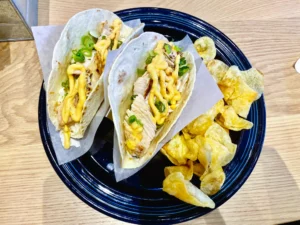 Now let's talk food. Boardwalk Bar & Arcade hits the nail on the head when it comes to beach boardwalk food options. They serve popcorn, pretzels, hot dogs, pizza, and even cotton candy if you're looking for fun foods to relive your summers at the beach. However, if you want more traditional or healthy options, they also offer salads, a hummus platter, sandwiches, and tacos. I ordered the tacos, which come on flour tortillas with a choice of chicken, carnitas, or blackened mahi-mahi. They are topped with coleslaw, avocado, scallions, and chipotle aioli and come with a side of potato chips. I got grilled chicken tacos, and they were fantastic! Other people in my party got nachos, grilled chicken salad, and the triple decker club sandwich, and everyone was really happy with their meals. 
Before we left Boardwalk Bar & Arcade for the night, we had to try a few games! After all, it is partially an arcade. We played ski ball and basketball and got our fortunes read by the fortune teller. It was a fun way to end the night and play with my friends, cheering each other on!  
Boardwalk Bar & Arcade is a great option for larger groups of friends or even families visiting Washington, D.C. on vacation. This would be a wonderful spot to host a birthday get-together since they have so much space, easy ordering options, and added entertainment provided by the arcade games. Check out Boardwalk for a good time and tasty food with your friends this summer!