The Hot Dog Box brings an elevated twist on a classic dish.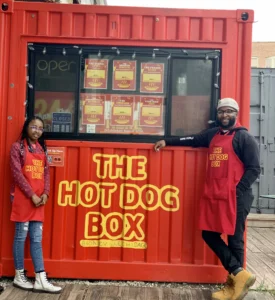 When you think of a typical Chicago Dog, you might picture a Vienna beef hot dog with mustard and absolutely no ketchup. Few restaurants make hot dogs the star of their menu, but The Hot Dog Box elevates the typical Chicago dog and then some.  
The original storefront is in Bronzeville, more specifically Boxville. Known as the "Dynamic Duo", Bobby Morelli and his daughter Brooklyn AKA "Boss Lady", are typically seen preparing food and taking orders when you walk up to the bright red old train car. When I first visited this gem, they had only been open for a year and the pandemic was in full effect. He wanted me to get the word out about his business since many restaurants needed extra support and attention during this time.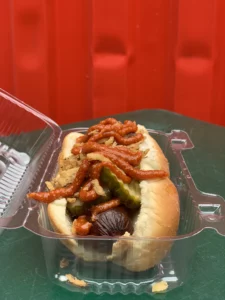 When the weather allows, I encourage you to go to the Bronzeville location. They do not have indoor seating; however, they have some outdoor tables where you can enjoy your freshly made hot dog. There are also yard games such as a large connect four and Jenga, as well as music to match the vibes. If it's colder, I would recommend going to the new location on Milwaukee Avenue. It has indoor dining as well as music and yard games to remind you of where they came from.  
Bobby treated me to three hot dogs to try, and let me tell you, I was amazed! I could not believe a hot dog could be upgraded so magnificently. For starters, he uses filet mignon steak hot dogs and gourmet pretzel buns. Depending on what hot dog you order, the meal includes a homemade sauce and delectable toppings that pair perfectly together.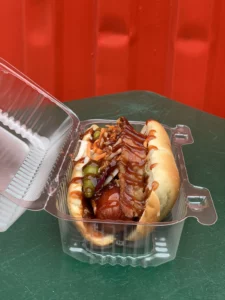 My personal favorites were the "Bronzeville Bourbon" and the "Pickle Minion." The Bronzeville Bourbon is topped with their special and secret bourbon BBQ sauce, fresh cabbage, carrot medley, and hickory bacon. The Pickle Minion has an unbelievably spicy truffle peanut butter sauce, sweet pickle chips, and crispy onions. Thinking about taking a bite into one of these hot dogs right now is making my mouth water! 
Bobby also features his daughter Bailey's brownies on the menu. Once again, another member of this family has superb culinary skills. I love that Bobby involves his entire family in this endeavor. He shows his daughters that they can do anything they put their minds to. It has been such an honor to be along for their journey and I only see positive things from here!