Where can you find the best donuts in Chicago? D&D's Place!
It is always special when you find a hidden gem in any big city. Today's hidden gem is D&D's Place. Anyone who was not looking for this donut shop would miss it due to its size and how busy the road is. However, once you walk into this family-owned shop, you will decide at that moment that you will be a regular moving forward. 
The owners, Devell and Lolita Brittmon, once worked at another classic Chicago spot, Old Fashioned Donuts. In my humble opinion, the married couple make some of the best donuts in Chicago. Anytime you visit, you are greeted by one of the owners, and chances are they will give you a free sample because they like to spread their blessing!  
If you are not swayed by my opinion, just look up the winner of the best donut at Donut Fest for three consecutive years!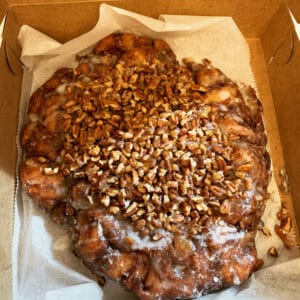 The Famous Apple Fritter 
I am a huge donut fan, so for me to tell you that these are my unrivaled favorite is no joking matter! D&D's is famous for their Texas-sized apple fritter that is made with equal parts dough and apples. When you get an apple fritter from other vendors, they usually put some apples on top or in the middle. They truly go the extra mile by embedding each bite with apple chunks, and even though it is giant, you will have no problem finishing it off quickly. Make sure you head over there early to snag one or call ahead of time so they can try their best to save you one.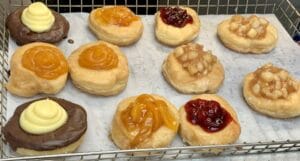 All The Donuts! 
The donuts are made fresh daily and are incredibly unique compared to most other shops. The glaze is made with fresh fruit, and you can really taste and see the difference. The strawberry and blueberry glazed donuts just melt in your mouth and leave you wanting more. They have an incentive for your child as well! If your student receives a good report card, they can come in for some FREE donuts! Lolita also informed me that they frequently give back to the community in any way they can. They really are an amazing couple, which is reflected in their donuts made with love and high-quality ingredients.  
Anytime I meet someone in the area who is a foodie, I tell them about D&D's Place. So far, every single person has had an amazing experience just like me. Every person that steps into that little shop is welcomed with a "Good Morning!" and "Have you been here before?" Then, Lolita likes to give a brief introduction followed by some donuts to get you hooked! I truly hope this mom-and-pop shop stays open for many years to come.