Havana Vieja on Washington Avenue is the new spot to be, trust me.
It seems that Washington Avenue is THE spot to be recently. I think this is partly due to COVID-19, which closed Ocean Drive for cars to parade up and down and now also prohibits pedestrians from using it. On the other hand, Washington Avenue is getting its jam on with new pop-ups, new vibrancy and life, and cars passing by. Consequently, more people are noticing it, including my husband and me.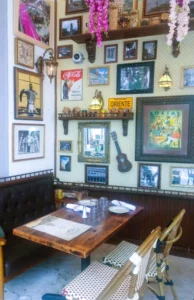 In particular, we noticed there is a new Cuban spot called Havana Vieja, which is located at the Chelsea Hotel. We visited on a late Thursday afternoon, and it was a stormy kind of day with looming Floridian clouds threatening a downpour.
They have a really cute, Havana-inspired outdoor area with lots of vintage memorabilia, such as an old typewriter, stained-glass lamps, gilded mirrors, a plethora of photos of Cuba, and other eclectic decorations. I have had the pleasure of actually visiting Cuba and this transported me back to my wonderful trip! I loved Havana Vieja's music selections, which included Cuban, salsa, and Spanish music played at just the right volume. They even played cool twists on modern classics, such as a Spanish-style rendition of a Coldplay song.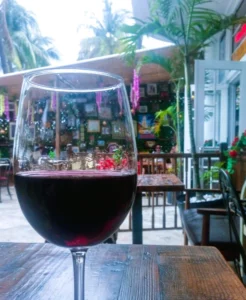 The waitstaff at Havana Vieja were all incredibly sweet and cheerful. We had a lovely woman serve us, who was so sweet and charming. I even told her, "This is embarrassing, but I am girl-crushing on you! You have the prettiest face!" I believe in sending out compliments whenever I can, and she reacted kindly.
As my husband kept announcing, the food at Havana Vieja is real Cuban! We found out the chef, who has only been in Miami for two and a half years, is originally from Cuba. My husband said, "Yeah, it shows — it's not corrupted by Miami yet!" For drinks, my hubby got Merlot house wine and I got a piña colada, which was very refreshing and made like a slush puppy. I prefer the more traditional Coladas with less mush and more rum. Next time, I will stick to a Cuban-style mojito with sugar cane. I witnessed other patrons having this and I was so jealous!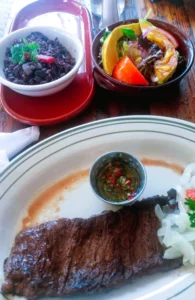 For appetizers, we ordered tostones Relleno. This was such a pretty dish offered with three different filling options: chicken, shrimp, or ropa vieja (shredded beef). The deliciousness is engulfed by a cup-shaped fried green plantain basket. We also got grilled octopus. I don't normally choose dishes like this, but after reading some reviews and seeing the photos, I relented when Pedro, the manager of this establishment, recommended it. I am adventurous, so I decided hell yes. It was sensational and the best octopus I have ever tasted. It was incredibly delicate and was as smooth as silk. It was so tender that my basic knife with serrated edges just glided effortlessly through. When you dine at Havana Vieja, I strongly recommend that you try this, this dish was definitely the highlight of my dinner!
Although the octopus completely satisfied me, my main of churrasco (medium) gave my appetizer a run for its money. My husband stated that it had "great flavor" and that "the chef knows what he is doing, and he has nailed it!" Between the excellent taste and evidently homemade chimichurri, it was heaven-sent. We accompanied this with some delicious Moros (rice with black beans) and a salad, which came with lettuce, red onion slices, tomatoes, and avocado with a nice light dressing. To top off our meal at Havana Vieja, we had some flan for dessert. We really enjoyed it and thought it was creamy, decadent, and soft.