The Mad Herbalist in Clarksville is a tea salon delighting all the senses. 
I visited the Mad Herbalist in Clarksville, Tennessee, for lunch in early June. As I stepped through the doors of the historic "Neely" cabin circa 1769, I sensed I was in for something completely different. I spied a wall of glass jars brimming with loose-leaf teas. The containers boasted interesting names like Frosted Flora, Lemon Buzz, or Sweet Cinders. I imagined I was Alice in Wonderland, attending an extraordinary tea party.  
The interior felt inviting. The cabin's fieldstone walls and logs created a welcoming space, and the booths along the walls were intimate and cozy. The highly curated menu of tasty bites, salads, and sandwiches ordered a la carte or, if starving, ordered in trios to create a tiered meal, was mouthwatering, and served much like a proper British high tea without the fuss. 
My partner and I opted for the tiered plate to try as many options as possible on the ever-changing menu. We selected beet hummus, served with dippers like sliced rainbow carrots, cucumber, and toasted pita bread. The savory hummus was excitingly fresh and earthy from the addition of the ruby red beets, and the color was incredible. The crunch was quite satisfying on those crisp veggie dippers. We loved their take on that popular spread.  
Next, we ordered a serving of classic chicken salad and added a scoop of pimento cheese to the plate. These salads were accompanied by crisp lavash crackers, which comprised the second tier of our order. The classic chicken salad had just the right mix of mayonnaise, and adding sweet grapes and celery was refreshing. The pimento cheese had a tangy cheddar flavor, and the bite from the pimento was so delicious. It was smooth and creamy, and I couldn't stop eating it.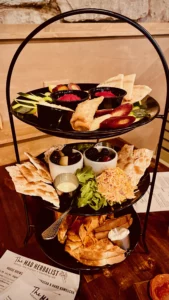 The bottom level of our tower was the signature pesto and tomato grilled cheese. This ooey-gooey masterpiece had a pesto spread, fresh mozzarella, and provolone griddled to perfection on toasted sourdough bread. It was served with house-made potato chips with an impossibly addictive onion dip. I should mention that despite what is evinced by our orders many dishes on the menu have options for gluten-free and vegan substitutions. 
The tea selection is waiting for you in test tubes at the table. You are invited to open the test tubes to smell the varieties, as each option is custom blended in-house from teas produced by loose-leaf purveyors. These are unique flavors that you can only sip here. 
You can taste several blends by creating your own flight of three or choose one by the cup– served hot, iced, or sparkling with the addition of beer, cider, or champagne. This was a first for me as I have never tried a "Teamosa" or "Raddler" before. The beers and cider are brewed by local brewers and rotated regularly. 
I choose a flight of tea selections as teamosas: Blissful Berry, Ginger Chai, and Coconut Brew. My drinks were presented on their unique beverage holder, with two glasses adorned by a flavorful custom made rim. My partner chose to have her teas hot and without the addition of alcohol. We sipped each other's choices and fell in love with the flavor profiles of the selected blends. My favorite was the Blissful Berry, a mix of hibiscus, blueberry, blackberry, elderberry, currant, sage, lemongrass, strawberries, and rose hips. The berry flavor mixed with the bubbles was bold and not sweet. It was the perfect accompaniment to the champagne. The drink was a winner.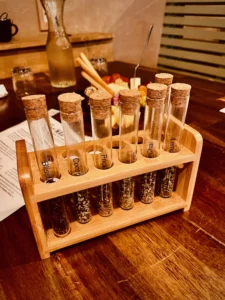 The Mad Herbalist also concocts tea lattes like Golden Milk, Matcha, and Mushroom. Drink options include locally made Kombucha, both hard and non-alcoholic.  
Weekend Brunch is also an excellent way to spend the afternoon. Along with the teas, you can choose from breakfast and lunch choices and charcuterie boards with cured meats, cheeses, fruit, hummus, pickles, and nuts– a feast for the palate. 
If you are inclined, you can ask your server to add on the scent-making experience, where you can blend your own fragrance from a selection of essential oils to infuse into a body spray, lotion, or scented hand sanitizer to take home. We opted for this and loved sniffing the different oils. We selected a few and then became "mad herbalists," blending the perfect scent that became a fun reminder of time well spent. This eatery makes your meal special, even if it's just a stop for a cuppa.