The Mailroom in Clarksville delivers a

unique

dining experience in a renovated U.S. Post Office.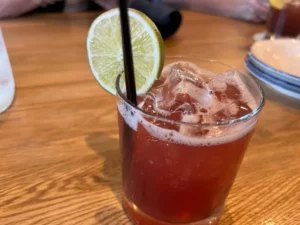 When you visit The Mailroom in Clarksville, Tennessee, you'll think of the expression, "You can't judge a book by its cover." The structure looks like an old post office or federal building from the outside. But inside, one finds a well-designed building that's been converted into a lovely restaurant. 
When you arrive at The Mailroom, you may feel like you're going to mail a package or letter, but that changes once you're inside. The décor is elegant but casual, and many historical touches have been preserved. The hostess stand is a bank of old postal boxes. The exterior windows are identical to those on the original building. The owners loved the original pink marble flooring that used to be in the post office lobby. So, they went to the same quarry in East Tennessee where the original marble came from and ordered more to expand the entryway.
The dining room of The Mailroom is bright and open, and the atmosphere is casual, inviting, and energetic. The bar is spacious and provides plenty of room to converse while you enjoy a variety of local beers and handcrafted cocktails made from fresh, locally sourced ingredients. Some beers come from Kings Bluff Brewing, a craft brewery in Nashville, and spirits come from Old Glory Distributing, a local small-batch artisan distillery.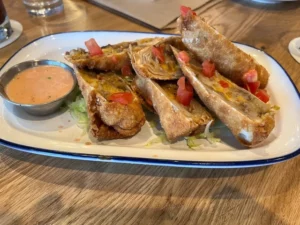 My favorite was The Pin Up, which consists of Old Glory gin, Luxardo Cherry, pineapple juice, fresh lime juice, and simple syrup. The drink reminded me of the Shirley Temples my parents used to let me order when I was young. Maybe a good name for this drink might be an "Adult" Shirley Temple. 
The bar extends from the main dining room out to a large, partially enclosed patio with fire pits and casual seating where you can enjoy nice views of downtown sunsets.  
The menu offers modern, made-from-scratch American cuisine and includes doses of Korean and South American influence. Entrees like the Korean Beef Bowl and Korean Cauliflower Steak are listed alongside traditional dishes like pan-seared chicken and pork chops. 
The Mailroom's pièce de résistance is its parrilla, an authentic Argentinian wood-fired grill, where chefs prepare specialties such as Skirt Steak with Chimichurri Sauce and Butcher's Butter Steak. You can see the flames leaping upward while seated at your table or the bar, which adds to the fun of being at The Mailroom.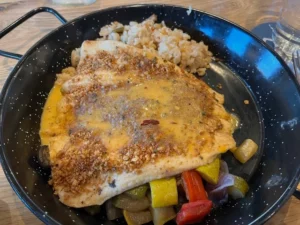 My friends and I started with the Monkeybread and Cheeseburger Egg Rolls, which our server recommended. The Monkeybread was a surprise because it wasn't flavored with cinnamon and sugar as most people would expect. Chefs bake it in-house with three types of cheese and provide a dish of cheese sauce for dipping.  
The moist and juicy Cheeseburger Egg Rolls included ground beef and blended cheeses flavored with red onions, pickles, mustard, and Roma tomatoes with 1000 Island dressing for dipping.  
I couldn't decide between the Crispy Mahi Bowl and the Pecan Crusted Rainbow Trout. I finally went with the Pecan Crusted Rainbow Trout, which consists of pan-seared trout and spiced beurre blanc with grilled vegetables and pineapple fried rice. It was soft and flaky, and the skin was nicely browned. The pecan crust and beurre blanc enhanced the mild nutty flavor of the trout.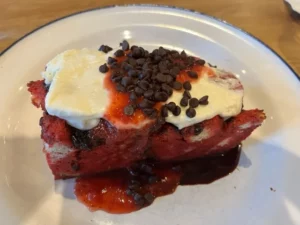 A couple of my friends enjoyed the Crispy Pan-Seared Chicken, which includes sautéed, lightly breaded chicken, pecan pesto beurre blanc, citrus-marinated tomatoes, and hand-cut fries. Several others tried the Pesto Shrimp Rigatoni, which consists of sautéed shrimp, pesto cream sauce, marinated tomatoes and onions, parmesan cheese, arugula, lemon oil, and garlic bread and proclaimed it to be first rate. 
We'd been told to save room for dessert and try the Warm Red Velvet Bread Pudding. We were glad we did. It's The Mailroom's signature dessert! It's topped with cream cheese frosting, strawberry sauce, and the chef's own chocolate sauce. We all agreed it was amazingly delicious and the perfect way to end our dinner. 
If you're in Clarksville or Nashville and are looking for a special place for a nice dinner with family or friends, make a reservation at The Mailroom. You won't be disappointed!