Gourmet and freshly made donuts only at
the Salty Donut!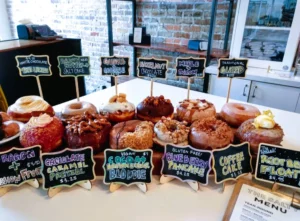 Amanda Pizarro-Rodriguez is a seasoned entrepreneur when it comes to baking, having started her first business, AP Sweets, at the age of 15. Her donut shop, The Salty Donut, which she co-founded with her husband, Chef Andy Rodriguez, opened in 2015 and specializes in chef-focused, small-batch seasonal donuts that are made from scratch in their kitchen. The Salty Donut only uses the highest quality ingredients and avoids using any artificial ones. Their yeast-raised donuts are all made with a 24-hour Brioche recipe that is buttery, insanely flavorful, and fluffy.  
On the menu, you'll find incredible all-year-round flavors like guava and cheese, white chocolate tres leches, and maple bacon. The Salty Donut also has seasonal options like butterbeer, strawberry shortcake, vegan blueberry crumble, peaches and cream, affogato, and blueberry coffee cake. To wash it all down, The Salty Donut also serves Intelligentsia Coffee, and just like with donuts, it also offers seasonal beverage creations! 
Not only is this location a staple for locals, but there's also a new location in South Miami. I have not had the pleasure yet to check it out, but I will. They also have locations in Austin and Dallas, Texas, as well as Orlando, Florida. They even have two more stores opening soon in Charlotte, North Carolina and West Palm Beach, Florida.  
It doesn't get any better than gourmet donuts! I was originally told about this store by my employers and thought I would give it a try.  First off, this place is extremely busy!  And we all know what that means: divine donuts that you would possibly kill someone for.  
I always sneak a visit here when I'm in the Wynwood area. Why? It's my guilty pleasure haven, and I simply can't resist these handcrafted dollops of pure heaven. I have tried numerous donuts from here (one donut per visit, I promise!), and each one is super fresh, moist, delicious and not greasy at all. They're all works of art that are almost too pretty to eat.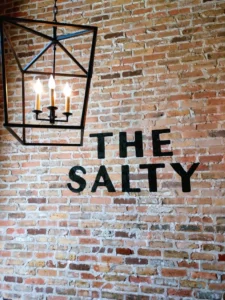 The traditional glazed donut is the cheapest donut on the menu. It is a perfect brioche donut that comes with a vanilla bean glaze. However, my ultimate favorite and go-to is the maple bacon donut. I dream and drool about this one. It has a pure maple glaze and is topped with in-house candied bacon and Ivanhoe Brewing porter reduction drizzle. I've also tried a seasonal donut, which was all pink. It tasted as divine as it was beautiful. Other donuts that I have yet to try are brown butter and salt as well as hazelnut and chocolate.
The interior decor is very Wynwood, if there is such a thing? It is clean, welcoming, urban-styled, with plenty of tables and chairs inside and a small patio area for those who want to enjoy the sun! 
I feel that I must make a serious public notice about this place: if you are on a diet, want to be on a diet, need to lose a few pounds, or want to eat healthily, do not visit this place! You have been forewarned.