Experience an

elevated

and

innovative dining experience in Miami at Novikov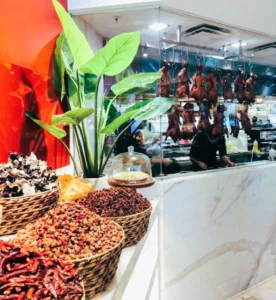 Novikov is a sophisticated, world-renowned Chinese and Japanese concept known for its colorful seafood and vegetable market, which also acts as a beautiful decor backdrop. They have an open kitchen concept where you are welcome to observe the kitchen preparation as well as admire their display of glossy cooked ducks. My friend chose this place for her birthday celebration, and the three of us decided from their incredibly priced $28 business lunch menu.
The business lunch is a fantastic opportunity to try some amazing food at a high-caliber restaurant. Therefore, the business lunch is extremely popular, which you can tell by how packed the restaurant is with business meetings and gatherings. This menu includes four unbelievable courses. The first appetizer is a choice of either a white miso soup or a refreshing cucumber tataki. The second appetizer includes an option of shrimp and cilantro dim sum, chicken and morel siu mai, or Brussels sprouts and crispy pork. The mains consist of Branzino cilantro pesto, crispy Peking duck, or vegetarian Singapore noodles. If this is not exquisite enough, you can then have a dessert of the chef's ice cream or sorbet.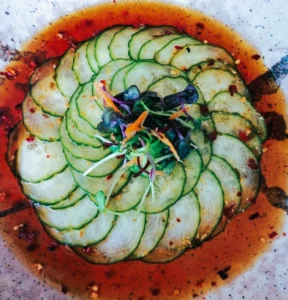 Let me tell you, everything about this place is gorgeous, from the food to the decor to the service to the location. You must add it to your list if you have not been already —you can thank me later!
For appetizers, I tried the cucumber tataki and the Brussels sprouts and crispy pork dish. The cucumber tataki was fresh, with a kick of warmth from the chili flakes. I am a huge fan of Brussels sprouts and pork, so when I heard that Novikov uses belly pork, I was totally on board to order this dish. I really enjoyed the taste of it; however, the pork belly was not crispy, and the Brussels sprouts were a bit dry. Nevertheless, I enjoyed it very much.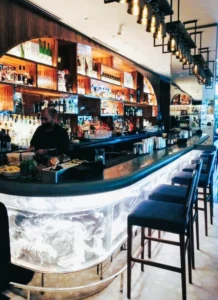 For my main course, I tried the crispy Peking duck. Apparently, this restaurant is known for their duck (you can see them hanging up at the open kitchen area). I enjoyed it but was surprised by how they presented it. Being English, I am used to it being served differently (i.e., the crispy duck is shredded in front of you "live"). Also in London, and in England generally, you get far more cucumber and spring onion slices, so I would have preferred more. I also would have liked more crispy skin, and less of their mushed duck. But, it was for sure an impressive take on this dish. The hoisin sauce was on point!
For dessert, I tried two sorbet selections: blackberry and raspberry. Both were gorgeous, with tiny pansy flowers adorning them. The sorbets tasted fresh, smooth, and tart.
I absolutely loved this place. It is beautiful and elegant, with great service and wonderful food.