Lona Cocina Tequileria

serves authentic

Mexican

cuisine with a modern twist right across from stunn

ing

Fort Lauderdale Beach.
So, what does Lona Cocina Tequileria offer? Just some stunning views of the gorgeous and calm Fort Lauderdale Beach! I mainly popped in for this reason, as the views are amazing. What's not to love? When you are in Florida, you want good weather, sea breezes, and excellent views — plus there's happy hour!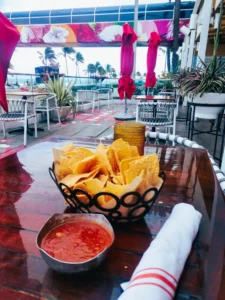 Lona Cocina Tequileria offers authentic Mexican food and daily happy hour specials from 3-7 p.m. Pablo Salas, a Mexican native, is the chef behind these wondrous tacos. The inspiration for the restaurant's name was Salas' desire to bring Mexican flavors to the American food scene. "Lona" means canvas in Spanish, just like Salas' body is a canvas for his tattoos. Salas uses the term "canvas" to refer to a clean slate for his culinary creations!   
I visited Lona Cocina Tequileria on a Tuesday, which is when they offer a "Taco Tuesday" special for $5 tacos and $5 margaritas. Well, that makes it easy, doesn't it? It was a no brainer as to what I would order: a taco and a margarita! 
The margarita came in a pretty thick glass, and it was strong, pleasant, and most definitely hit the spot.  I particularly loved that they used an environmentally friendly biodegradable straw.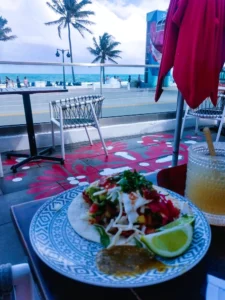 Before you sit down and peruse their menu, the staff offers you a free basket of chips and salsa. For the taco order, you pay upfront and then receive a voucher. With this voucher, you go to the indoor taco station, where all the delights await you. To be honest, I was not expecting too much, but let me tell you, it was good. All the ingredients looked fresh and appealing. This was not a self-serve situation; instead, the tacos were prepared by a server who loaded your taco with any topping you desire. There are four choices of filling: chicken, beef, pork, or vegetarian. I chose pork, and my server generously stuffed my taco with the meat. For toppings, I chose sour cream, cilantro, pink pickle, diced white onion, cheese, charred pineapple pieces, salsa, and some mild hot sauce. I was a very happy guest!  
All in all, it was a decent meal, and I found it to be quite delicious, far surpassing my initial expectations. My bill was a bargain at only $10 plus tax, or as we Brits say, "it was as cheap as chips!" I will absolutely return to Lona Cocina Tequileria for their Taco Tuesday, lovely views, and hard-hitting margaritas!