Visit Birds of a Feather for some Sichuan-inspired cuisine.
I moved to Williamsburg last year and I've been eating my way through the neighborhood ever since. Birds of a Feather has been on my list for a while, and I was finally able to try it with some friends over the weekend.
The owners, Xian Zhang and his wife, Yiming Wang, also own a Michelin-starred restaurant in Midtown called Cafe China.
Birds of a Feather specializes in Sichuan cuisine, a well-known spicy fare. There are quite a few fiery options on the menu, but there are also many dishes from which to choose for those with a milder palate.  
My friends and I went for an early dinner on Friday evening, around 6 p.m., and we were seated right away. However, when we got up to leave the restaurant around 7:30 p.m., we noticed a long wait. They do offer reservations online though, so be sure to make one if you want a guaranteed table during their busy hours.  
The restaurant has indoor and sheltered outdoor seating, as well as plenty of room for large groups. The establishment has a simple modern look to it, with high ceilings and light wood tables. Our server was very friendly and our food arrived quickly. 
We ordered our drinks and food all at once since we were hungry from walking around the city all day. I began with a local pilsner called "The Crisp" from Sixpoint Brewing. This is one of my go-to New York beers and when I eat Chinese food, I always like to have a pilsner or light lager.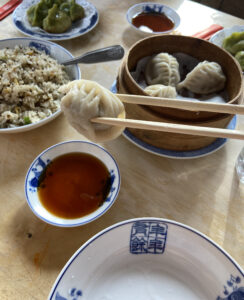 In regards to our meal, we decided that ordering a few dishes to share was the best option. Besides, there are so many delicious items to choose from on the menu! We started with the steamed chicken dumplings and veggie potstickers. These were both big hits. We then ordered steamed soup buns, dan dan noodles, and fried rice with mustard green shoots.  
The steamed soup buns were filled with savory pork and served with a delicious ginger sauce. They were absolutely amazing! As for the fried rice, I consider it the most flavorful fried rice I've ever tasted. It's a great dish to choose when sharing with a table. Lastly, the dan dan noodles were probably my favorite dish of the evening. These noodles definitely have a kick and are served with minced pork, mustard green shoots, and sesame oil. In particular, the sesame oil gives the dish a delightful essence. I cannot wait to go back and order it again! 
All in all, I'd recommend Birds of a Feather to anyone living in or visiting NYC. There is something on the menu for everyone. This is the perfect spot to come with a group of friends and order a handful of plates to share. I will definitely be back soon!