Dim sum and Peking duck in the heart of midtown Manhattan.
Hutong is a chic, contemporary Hong Kong restaurant located in Midtown Manhattan which is housed in a glass skyscraper that also houses Bloomberg L.P.'s offices. The palatial dining room is glam, opulent, and sleek, making it perfect for business dinners, after-work drinks, and dim sum indulgence after shopping at a nearby Bloomingdale's.
Part of the Hong Kong-based Aqua Restaurant Group, which owns a collection of bars and restaurants in Beijing, Dubai, Hong Kong, London, Miami, and New York, Hutong's vibe is upscale, lounge-like, and pricey. The high-quality, modern interpretations of classic Chinese favorites paired with creative craft cocktails are a fine combination.
Named after the ancient alleyways populated with courtyard-style homes that are seldom seen today in China's major cities like Beijing and Shanghai, it specializes in contemporary northern Chinese cuisine, classic dim sum, and Peking duck. Founded by restaurateur David Yeo's Aqua Group, they have sister restaurants in Dubai, Hong Kong, London, and Miami.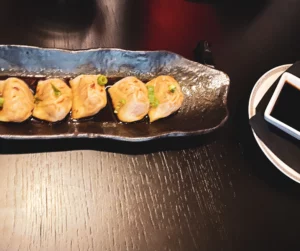 The restaurant has several menus, including weekend brunch, weekday happy hour, lunch, dinner, a weeknight five-course set menu, and seasonal offerings. Artisanal dim sum like the hot and sour pork xiao long bao, scallop shumai, and wagyu beef millefeuille are expertly prepared and exquisitely presented, but prices for three pieces aren't for the faint of heart.
Lunch and dinner appetizers include classic Chinese snacks like dumplings and bao that have been elevated to fine dining status thanks to premium fillings such as Iberico pork, lobster, and short rib. Our knowledgeable server recommended the truffle shiitake and wild mushroom bao, which featured perfectly steamed buns formed to look like mushrooms, and the signature Yu Xiang Crispy Pork Dumplings, which had just the right combination of filling and searing on the wrappers.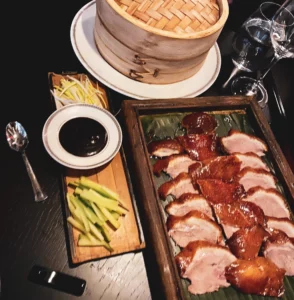 In addition to its artisanal dim sum, it is noteworthy for its Flaming Duck, which is only served Monday through Thursday nights. Their barbecue master, Chef Martin Mak, creates a perfectly crispy duck that is engulfed in flames and carved tableside. The experience is only available for up to five tables and must be arranged via prepaid booking and ordering.
Multiple attempts to book The Flaming Duck experience were fruitless, so we settled for the roasted Peking duck with pancakes, which is served in two stages. First, a tender, juicy carved piece of roast duck and skin is self-assembled at the table, along with delicate, nearly translucent pancakes, slivers of cucumber and scallions, and plum sauce. Then, a crumbled Peking duck is served in lettuce leaf cups. The half duck was sufficiently sized for our three-person party and is unquestionably one of the best Peking ducks in the city.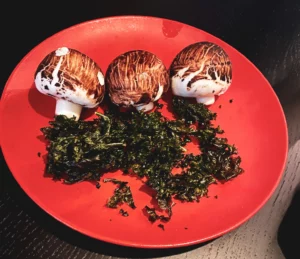 Don't miss the inventive cocktails made with Chinese herbs and spices, such as the spirit-subtle Magic Lamp (jasmine tea-infused Maestro Dobel Tequila, Braulio, Lucano, St. Agrestis, grapefruit, lime, and honey) and spirit-focused Lucky Dragon (Scotch, Amontillado sherry, Ancho Reyes Verde, nocino, Angostura bitters, and a five-spice tincture). A creative collection of mocktails includes Butterfly Rickey (butterfly pea flower tea, lemon, honey, and plum bitters), Chasing Rabbit (carrot, cinnamon, mandarin purée, and ginger beer), and Passion No.9 (passionfruit, vanilla, and mint).
The service here is welcoming, informed, efficient, and impeccable. This, combined with exceptional and creative Chinese fare, make Hutong an exemplary epicurean endeavor in the heart of Midtown East.