Authentic Ethiopian, Michelin Guide recommended, AND women-owned. What more could you ask for from Demera?
When my grandmother said she was coming to visit me in Chicago, I knew I had to take her to places that were unlike anything she had tried before. When searching for a restaurant that fit my criteria, I came across Demera, an Ethiopian restaurant that comes Michelin Guide recommended and is renowned for its authentic and soulful food (bonus: it's woman-owned by Tigist Reda). After perusing the menu and website, it was clear that Demera offers something special and unique to their diners, so I was sure we would get exactly that. 
Demera is located in the vibrant neighborhood of Uptown, sandwiched between theaters and jazz clubs, so the environment is very lively. They offer indoor and outdoor seating, but due to the time of day, our party opted for indoors. The inside of the restaurant is colorful and donned with lovely Ethiopian decor.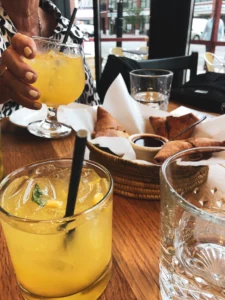 From the moment we walked in, we had friendly staff members ready to assist us. They were quick to get us our menus and answer all of the questions we had about the various food and drink selections. Our group decided to order a pitcher of the Arba Minch glass, which is a blend of mango, basil, vodka, and Collins mix. Though it contained simple ingredients, this drink was sweet and refreshing, and it was the perfect way to end a summer evening. The pitcher provided around six servings, making it just right to split among three people. 
For our appetizer, we split an order of the sambusas, which are Ethiopian fried dumplings (similar to empanadas), served with a sweet and spicy honey awaze sauce. We selected chicken, spinach, and lentil flavored dumplings to taste the diverse flavors that they offer. The dumplings were all phenomenal — my favorite being the spinach — and the sweet and spicy sauce complimented the fried exterior well.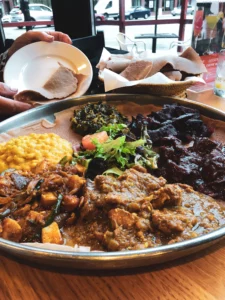 Our server recommended ordering a combination platter to try multiple dishes without committing to a full serving size. The menu is broken up into various categories, such as vegetable or chicken, and they offer a variety of combination sizes depending on the size of your party. Because this was my grandma's first time trying Ethiopian food, we decided to get the "Demera Messob" (a combination that serves 2-3 people), which includes three meat dishes and three veggie dishes. For our meat selections, we chose the ye-beg alicha (lamb dish with a mild alicha sauce); the ye-asa leb leb (tilapia filets with onions, garlic, tomatoes, ginger, and jalapeños); and the siga wot (tender cubed beef cooked in a rich and spicy berbere sauce). For our veggie dishes, we ordered the kik alicha (split yellow peas stewed with onion, garlic, and turmeric); the gomen (collard greens slow cooked with onions, garlic and ginger); and the kayseer tibs (sautéed garden beets and carrots seasoned with cinnamon).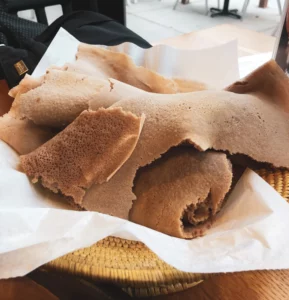 The meat and veggie dishes were served on a large metal platter with a substantial piece of injera, which is a sour fermented flatbread with a slightly spongy texture. This flatbread is not only used as a plate, but as an eating utensil to pick up pieces of the meat and veggies on the platter. Each dish was incredible, with the standouts being the ye-asa leb leb (tilapia) and the kayseer tibs (beets and carrots). The tilapia was seasoned with a variety of savory spices, and the jalapeño was just spicy enough to make you reach for your water, while the beets and carrots were perfectly tied together with cinnamon. 
I would recommend every person who lives in Chicago or is visiting to make it a priority to visit Demera. They give an authentic Ethiopian dining experience with friendly service in a great neighborhood. The food is affordable and expands your palate to different seasonings and spices that you otherwise may not encounter. If you're in the neighborhood to dine, you might as well pop into one of the jazz clubs or theaters afterward for a well-rounded evening of delicious food and entertainment!