Find authentic Italian at Il Pastaiolo with pasta that is homemade and handmade.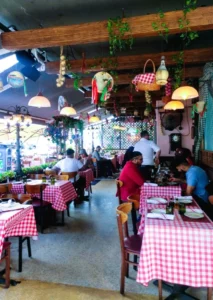 Il Pastaiolo is a Neapolitan-style Italian restaurant located on the ever-popular Collins Avenue. Mirko Cipriano, one of the owners, came from Naples, Italy in 1999 and has always believed in homemade food made from the finest ingredients and it shows.
The service at Il Pastaiolo was perfect, friendly, and helpful. We overheard Italian being spoken, which added to the charm and authenticity of this place. My husband speaks Italian and even had a chat with some of the staff! The decor is rustic and Italian-inspired, with false wooden beams, hanging baskets, plants, spoons, garlic, grapes, chilies, and numerous memorabilia. The tables are covered with checkered red and cream tablecloths, and all the seating areas seemed cozy and inviting. They even have a cool neon sign that says, "eat pasta, pray and love." There is an actual swing underneath the sign, so you can snap a pic for Instagram!
My husband and I tried a variety of dishes, starting with Grandma's Meatballs (polpette della nonna). The dish came with five hearty, homemade beef meatballs with an abundance of high-quality tomato basil sauce, which is ideal to dab the accompanying bread into. Il Pastaiolo serves guests a complimentary basket of fresh bread, and each table has cute little bottles of olive oil and balsamic vinegar.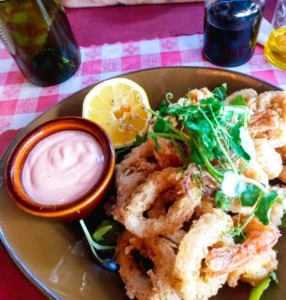 Our next dish was fried calamari and shrimp (frittura mista). The order includes crispy fried calamari, shrimp, and zucchini with a touch of black pepper served with an aioli sauce. I have been to Italy many times, and I can wholeheartedly say that this dish was wonderful and authentic. The batter was crispy, light, and not at all soggy. The presentation was beautiful as well. The calamari were delicate and not chewy. I'd score this dish a 9.5/10, with a half-point deducted because I did not have any zucchini, but who cares? I didn't!
Next, we tried their pappardelle mushrooms and truffle (funghi e tartufo). This consists of homemade pappardelle, wild mushrooms, garlic, chopped parsley, grana Padano, and truffle oil. The pasta was definitely fresh, very tasty, and a robust meal. The truffle oil was also noticeable, but not in an offensive way; the balance was excellent.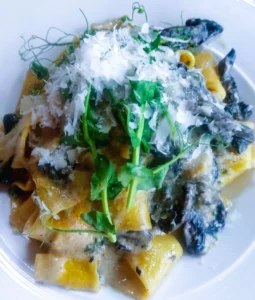 We also tried the Scottish salmon (salmon scozzese). This is a charcoal-grilled salmon with mashed potatoes and mixed vegetables. This dish was gorgeously presented and extremely colorful. The vegetables included broccoli, carrots, and tomatoes, all of which were perfectly cooked.
For dessert, we tried the Il Pastaiolo cheesecake. It is a creamy ricotta cheesecake with strawberry jam, mint, blueberry, shaved pistachios, and a side of kiwi. The cheesecake had a lovely base, while the cheese was especially delicate and creamy. The strawberry sauce was delicious too, and not overly sweet like other places. The shaved pistachios also complemented the dessert well. There was no evidence of mint, so I'm guessing that they did not have this in stock. It did not matter though as it was still absolutely delectable.
You will not be disappointed if you visit ll Pastaiolo, a true Italian gem!